I will share a little about myself, my family, and my "fur-children on these pages.
Skip and I were Married in 1985
This Isis & Gunner our Basenji Hounds
And the cat is our adopted 18 year old "Pumpkin"
Our Miss Winnii went to the Rainbow Bridge on
August 18 2003
In February 2004 we adopted our new baby
"Miss Sophii"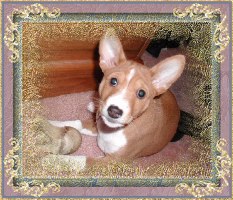 Miss Sophii was born 12-06-03
I was born in San Mateo, California but I have lived in
Sacramento, California since I was 10 days old.
My Daddy was a minister and I am the typical "Preacher"s Kid".
I am a Christian and love the Lord.
I am a Community Chaplain in Sacramento County.
"And it shall come to pass, that whosoever shall call on the
Name of the LORD [Jesus Christ] shall be saved."
I went to Marshall Elementary School, Sutter Jr. High School,
and to Sacramento High School. In 1953 I left Sacramento to go to
Canyonville Bible Academy in Canyonville, Oregon.
I returned to Sacramento and graduated from
Sacramento High School class of 1955.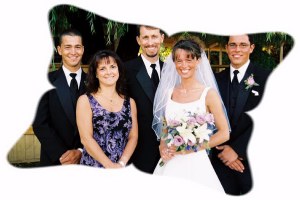 My grandson Ben, Daughter in law Becky, Eldest son Dennis,
Bride Granddaughter Sarah and new son in law Brian.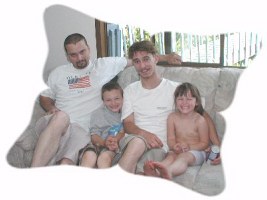 My Middle with his son David, daughter Bailey son
grandson Cole, Grandson Tim, and Granddaughter Bailey.
My youngest son, Don & wife Roberta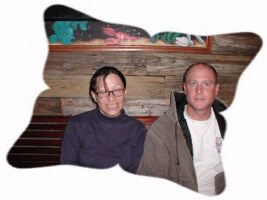 Grandson Jon and Granddaughter Erin
In 1991, some friends and I have started a reunion of the Sutter
Junior High School class of 1952. We meet each year in October
for a potluck meal. Some of us started Elementary School together.
We are a very close group - more like a family.
It is a blessing to have such an extended family
My mom ~ Skip's mom
Skip's Mom lives in Tennessee and still maintains her own home.
My Mom lives in a private home where she can get the care that she needs.
They are both very special to me.
My Dad was born in East Prairie, Missouri but lived most of his childhood in Madera California.
He gave his heart to God after attending a service in Angeles Temple
in which Amie Semple McPherson preached in 1925.
1917 - Amie Semple McPherson founded Foursquare Gospel Church – Los Angeles
He attended Glad Tidings Bible college in San Francisco,
California in the 1930's. He met my mom (Elsie Schneider) in Lodi,
California where he was ministering.
It was love at first sight.
Dad & Mom ~ 1941
Mom played the piano and Dad preached. They were married 61 years.
Together they worshiped the Lord together nightly before they went to bed
with Bible reading and prayer.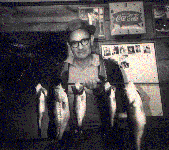 "Now as he walked by the sea of Galilee, he saw Simon and Andrew his brother casting a net into the sea; for they were fishers.
And Jesus said unto them, 'Come ye after me, and I will make you to become fishers of men'."
As my son said, "Grandpa was truly a fisherman and a fisher of men".
During my early childhood, we lived in the back of the mission. There was a small kitchen,
bath and one room with a bed and my crib. I remember that as if it was yesterday. I had
no one to play with so my mom would take me to the Capitol Park to roll on the hills and play.
At that time the Capitol grounds were not level but had a cluster of small hills. Sometimes
we would just walk all around town. Mom got most of my clothes at the Goodwill Thrift Shop
, as money was pretty scarce for them. I still go to thrift shops to find my treasures.
When I was five we moved to 520 -28th Street in Sacramento. That house still stands and
is being restored as a historical building.
.
My grandpa Schneider and Dad built the church at 2800 C Street. It was such an exciting project. Most of the lumber was donated and God provided the rest. Dad stayed there as minister until 1960 when Mom and Dad went into evangelistic work.
One lady that came to our church was Clara Belle Yonce. She became my "grandma". She
loved me so much and I loved her also. She would let me come to her house to play with the neighborhood children where she lived. She taught me to bake cookies. I remember she made
the most wonderful soup for me. She took a can of stewed tomatoes and added milk and a ½ teaspoon of baking soda. I still make that for us now. When I was a teenager, she moved closer to our house on 28th Street. I visited with her as often as possible.
She was an angel.
In 1970 Dad took over the Assembly of God church in Florin, California and stayed there until Dad became unable physically to continue. In 1985 we started noticing a change in him. He was diagnosed with Alzheimer's disease. Dad would often forget who I was but he never forgot how to pray. At Sutter Oaks Alzheimer's Center where he had been for the last few years, he would be asked to pray for anyone who was having a bad day. That was the highlight of his days. He loved the Lord like no one I have ever known. He was always proud to share God's message with anyone and everyone.
Dad's 92nd birthday was on April 12, 1994.
On November 19, 1994, Dad was called to his new home.
Just before he left, I whispered "go ahead Daddy ~ God needs you there now~.
With that, very shortly God had his angels take Dad to be with him.
Mom and Dad (taken) days before he went to he was promoted to Heaven!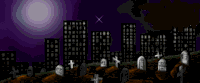 "For surely there is a hereafter,
and your hope will not be cut off."
Proverbs 23:18
For I am persuaded, that neither death, nor life, nor angels, nor principalities, nor powers, nor things present, nor things to come, nor height, nor depth, nor any other creature, shall be able to separate us from the love of God, which is in Christ Jesus our Lord.
CLICK ON THE PICTURE TO VIEW A LOVELY SITE
This is me with my 3 sons.
Dennis 1960 David 1960 Don 1962
Dennis as " Master Sacramento 1959 "
Yes, Of Course I am a proud Mother
Now that you know a little about me and my family,
enjoy the rest of the journey through my pages.
Please take time to drop me a line and let me know where you live.
Web Design by Marlene
© Marlene's Nest 2003