The Grinch Can't steal Christmas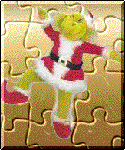 If we never got another gift.
If there were no more Christmas decorations to give
our spirits a lift, would Christmas still come anyway?
Well what do you say?
If there were no more Christmas feast.
No more stories of wise men from the east.
Would we cease to have a Christmas day?
Well what do you say?
I say that Christmas would still come!
Unless man's heart has truly grown numb.
Yet Christmas would still come for those.
Who believe that Jesus died for them and arose.
A Christmas we celebrate Jesus birth.
And on Easter we celebrate man's worth.
But God would have redeemed each of us even if we were the only one.
I am so glad that nothing can stop God's will from being done.
No nothing can steal Christmas away.
And this is all the more reason to live it each day.
So go ahead grinch, devil, or whatever you just try to steal or stop
Christmas from coming! So to all Ah say
" Wishing Y`all A Very Merry Christmas"
Author Unknown

Web Design by Marlene
© Marlene's Nest 2004